Howarth Junior Oboe frans Conservatoire systeem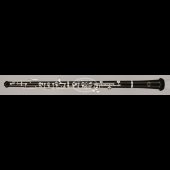 Our new beginner model, based on the design of our standard student models, giving the advantages of quality of sound, stability and good tuning. For full details Click here.

Technical specifications:
Closed hole model with all covered holes
Special lightweight key mechanism
Extensions on 4 finger plates for greater comfort
Simplified conservatoire system with semi-automatic octaves
Uses standard fingerings, allowing easy progression to more advanced models
Fully chromatic range of 2½ octaves from bottom C
Uses standard oboe reeds
Body made from African Blackwood (Dalbergia melanoxylon)
Nickel silver keywork which is silver plated
Every instrument comes complete with good quality student model case.
Studie