Marigaux Oboe 900 Semi-automatic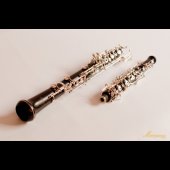 Semi-automatic, grenadilla wood, silverplated keys.

The very heart and essence of Marigaux manufacture, the original sound according to Mr. Jules Marigaux's standard.
Wood rigorously selected, dried during at least four years.
A traditional manufacture, true to the excellent reputation of French craftsmanship.
A much easier and sharper low register(double correspondence on the bell).
A high register which is even and direct.
An excellent orchestral oboe played by the greatest ensembles worldwide.
3rd octave key, double F key
907
Violet wood
Gold-plated keys
Semi-automatic
908
Grenadilla wood
Gold-plated keys
Semi-automatic