Semi-pro Oboe Strasser 801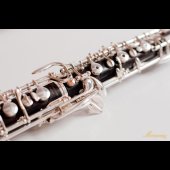 Semi-automatic, grenadilla wood, silverplated keys.
Delivered with light back pack.
Il est mis au point pour faciliter la transition vers les instruments professionnels.
A keywork design allowing the musicians to use all the different fingerings.
An exceptional ease of play.
The same production standards as professional oboes.
Mechanics: 3 rd octave key
Double F key